Welcome to the Pigs Don't Wear Pearls Website!
Thank you for visiting and helping to change the world one child at a time. Check out this video for a preview of the series:
Latest Installment:
Hot Links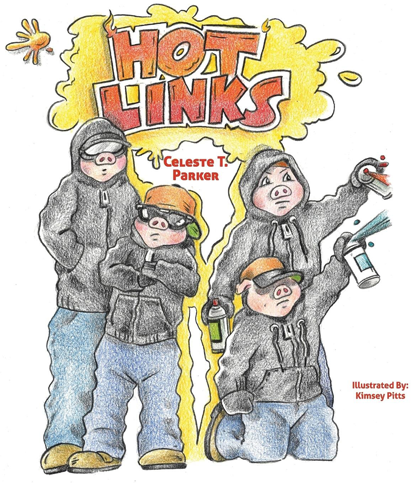 In the fourth and final installment of Pigs Don't Wear Pearls, baby of the family Just Azure (just as you are), is angry that his disability makes him different from his older brother and sister. He makes a choice to fit in, but is left out in the cold until an unlikely hero shares his rooftop revelations, challenging Just to rise to the occasion and be the boar he is destined to be. Hot Links teaches all children to be themselves, and shows the odd that there's a better way to get even.
<!–– Original image size is: 411 x 483 ––>
"The President and I share your optimism for our Nation's future. Thank you for writing!"
Michelle Obama
First Lady of the United States
"With my busy schedule, Pigs Don't Wear Pearls bedtime stories are the perfect end to my day. My kids love them. They make the Windy City a little warmer."
Val Warner, Host
Windy City Live (Chicago)
"Bedtime reading compliments of Pigs Don't Wear Pearls! My son gets a kick out of these books!"
Terri J. Vaughn
Actress
"Celeste T. Parker is an excellent educator who has placed that same passion into her writings. Her children's books have excited and inspired so many future scholars. It is a joy collaborating with her as she teaches through literacy."
Pastor Michael Neal
Executive Director, Leading with Literacy
Purchase the Books
To purchase a book, please click on the image below.